Biking with Kids: Tips for Introducing Your Children to the Joys of Cycling
Posted on May 3, 2023
---
Biking is a fun and healthy activity that can be enjoyed by people of all ages, including children. Introducing your kids to cycling at a young age can help them develop healthy habits and a love for outdoor activities that will last a lifetime. However, teaching your children to ride a bike and keeping them safe on the road can be a challenging task. Here are some tips to help you introduce your children to the joys of cycling.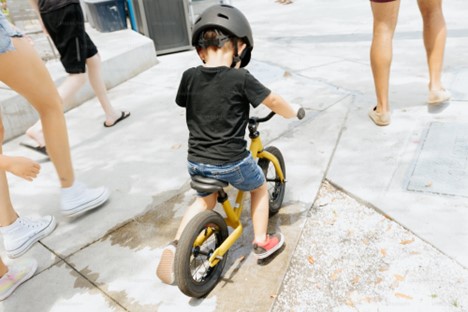 Start with a balance bike

A balance bike is a small bicycle with no pedals, designed to help children learn balance and coordination. It is a great tool for introducing your child to cycling, as it allows them to focus on the basic skills of balancing and steering without the added complexity of pedaling. Once your child has mastered the balance bike, they can easily transition to a regular bike with pedals.
Invest in the right equipment

When it comes to biking with kids, safety is a top priority. Make sure your child has the right equipment, including a properly fitted helmet, front and back lights, gloves, and comfortable shoes. You should also invest in a good quality bike that is the right size for your child. A bike that is too big or too small can be dangerous and uncomfortable to ride. To ensure a comfortable fit for your child, you can request a bike fitting by a trained staff at one of Bellevue or the surrounding region's many bike shops. 
Teach basic road safety and bike security

Before hitting the road, teach your child basic road safety rules, such as always wearing a helmet, riding in the same direction as traffic, using hand signals to indicate turns, and stopping at stop signs and traffic lights. You should also teach your child to be aware of their surroundings and to look out for potential hazards, such as cars, pedestrians, and other cyclists. Go here for a link to Washington state bike laws and safety tips. Also, teach your child how to minimize the likelihood of bike theft. Go here for instructions. 
Start with easy rides

When introducing your child to cycling, start with easy rides on quiet streets or bike paths. This will help build your child's confidence and help them get used to riding in different environments. As your child becomes more comfortable on the bike, you can gradually increase the length and difficulty of the rides. The Bellevue Bike Map is a great resource to see what the streets and trails are like near you! 
Make it fun

Biking with your child should be a fun and enjoyable experience for both of you. Try to make the rides fun by planning a route that includes interesting sights, such as a park or a playground. You can also pack a picnic and stop for a break along the way. Encourage your child to set goals and challenge themselves, but also be sure to celebrate their accomplishments along the way.

This week is also The Spring 2023 Bellevue SchoolPool Challenge!, which involves a student art contest. Students at participating Bellevue schools are encouraged to use the modes mentioned above to get to and from school, and draw a picture of their trip. Drawings may be selected to be used for future SchoolPool promotions. Click here to see if your school is participating, and if so, watch for the student art contest flyer in your child's backpack.
Choose Your Way staffer- Jake
Sources:

WSDOT
Washington Area Bicyclists Association