2018 Bellevue Bike Month Activities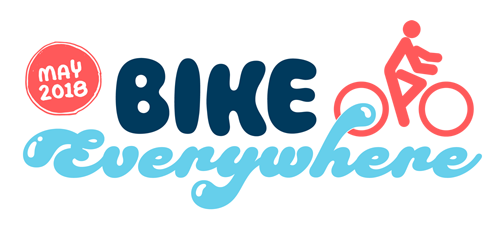 Where: Everywhere!
When: May 1-May 31
What: The Bike Everywhere Challenge is a fun and free competition to encourage your friends and colleagues to experience the joys and benefits of riding a bike firsthand. The Challenge is not just about who can ride the most miles, but who can encourage the most people to give bicycling a try. Sign up as a team captain and lead up to ten people (two must be new riders). 
Intro to Bicycle Commuting (taught by Cascade) - Registration Closed
Where: Bellevue City Hall, Room 1E-112
When: Wednesday, April 25, noon-1 p.m.
What: Cascade Bicycle Club presents the basics of urban cycling: clothing, gear, rules of the road, bike parking, etc. A pizza lunch will be provided. Space is limited. First come, first served.
Eastside Bike Bash, hosted by Choose Your Way Bellevue
Where: REI, 410 116th Avenue Northeast
When: Tuesday, May 1 4:00-7 p.m.
What: "Bike Everywhere Challenge" Team Captains and all interested cyclists are invited to attend the Eastside Bike Bash at REI in Bellevue. Captains can pick up their Bike Month T-Shirt and other team bike swag, and everyone can participate in drawings, giveaways and more! Representatives from the City of Bellevue, City of Kirkland, and more will be in attendance to share progress on bike planning and projects. All are welcome!
Where: Everywhere!
When: Wednesday, May 9
What: Join hundreds of riders in the Seattle area and thousands of other riders across the country on Bike to School Day. Bellevue students are encouraged to begin their school day with a safe and active commute May 9th and throughout the month! Visit Cascade Bicycle Club or Walk & Bike to School for more information. And if you are a Bellevue public school family, visit BellevueSchoolPool.org to learn about Bellevue's "SchoolPool" program and find out whether your school is participating.
Where: Bellevue Transit Center (Downtown) & I-90/Enatai Stations hosted by Choose Your Way Bellevue, 520 Trail at Evergreen Point hosted by TransManage & City of Kirkland
When: Friday, May 18, 6-9 a.m.
What: Visit Choose Your Way Bellevue and TransManage at their celebration stations to fuel up on snacks and snag some bike swag! Each station will be attended by local businesses and organizations to answer all your bicycle inquiries. Find more information about all the stations to hit up on your way to work.  And special thanks to Sound Transit for helping us host the Bellevue Transit Center stop!
Where: Redmond Central Connector Park (between Leary Way and 161st Avenue Northeast), Redmond
When: Friday, May 18, 4-7 p.m.
What: Music! Food Trucks! Bike shops! Beer garden! Give-a-ways! Bike Skills Clinics!
Where: Lake Hills Community Park, 1200 164th Ave Southeast, Bellevue
When: Saturday, June 9, 9 a.m.
What: An enjoyable, non-competitive recreational ride for the whole family. The routes take riders to and through Bellevue's award winning park system exploring hidden treasures of Bellevue. Benefits the City of Bellevue youth camp scholarship fund. Ages 9 and up. Register today or learn how to volunteer.